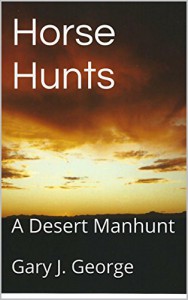 Horse Hunts: A Desert Manhunt (Smoke Tree Mystery Series Book 2) by Gary J. George
Free from Kindle and I thought I'd enjoy this read but I loved it.
Am not familiar with the area but my husband spent time there so I'd question him about some things, brings us closer as we age.
Starts out with Horse-the sheriff and he's learned of one of his men being shot while one was drving through the center. He and his deputy Andy head out to the area and he finds out all kinds of clues from things he sees and he knows what direction he walked off in.
They also learn Harvey had killed his wife and put her in the back of the trunk. As the book goes on we hear from Harvey's side and why he did things and where he's heading and why.
We also learn of not only the terrain-very good descriptions, detailed and you can picture them in your mind, but we learn of Horse and how he got that name and his life after retuning from the war and before then when he had met his wife while they attended high school.
Love how the local Indian plays a big part in all this and he knows the court system will never be able to dole out the punishment the man deserves so he takes matters into his own hands.
Love that Horse has a wife waiting for him at home and how she takes care of him. Would love to read more from this series and am noting this is one of my favorite for this month. Would love to read more from this series.